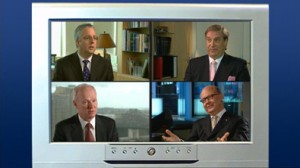 Peter Cox is available for conducting interviews on the media and communications sectors including FTA and Pay TV , OTT services such as Netflix, newspapers and the Internet.
As an economist Peter has a wide interest and has written about the national economy, politics, Government economic and media policy, the NBN and the effect of Digital Disruption on legacy businesses.
Peter can be contacted on 0413676326
Below is a chart provided by TEN to the SMH published 26/10/2015 showing the claimed relative revenue share growth by TEN.
Ten Network's revenue share growth. Photo: Ten
Disclosure
Peter had been prevented from making public commentary for the last few years as he was undertaking a consulting contract for an Australian media company.
Though this consulting only applied to one part of the Australian media industry it may have been perceived as providing a "conflict of interest" when discussing other media segments.
Peter Cox believes that it is important that his comments not only be absolutely independent as always  but also seen to be independent.