Publications
Peter Cox has published the following papers publicly plus many confidential reports for clients:
"The Television Crisis: profits and programming" in the Australian Financial Review Sept 1985
"Networks let grandfather tighten the regional noose" in the B&T -Feb 1986
"Concern over profitability of radio" in the Financial Review – Nov 1987
"Did Wesgo overreach itself?" in Australian Business – May 1988
"Network Television Stations: What are they really worth?" – May 1989
"Regional Television: The impact of aggregation" for operators and the Government – Jan 1990
"The effect of Pay TV on Commercial Television" for the DOTAC – Nov 1990
"The feasibility of using television for Training Programs" for DEET – May 1991
"Networks won't need safety cable" in The Australian – May 1992
"Keating's crossed wires" in The Australian – June 1992
"The ABC- study of competition shows claim of pre-eminence is self delusion" The Australian – June 1992
"Switch to bonanza when its money for the box" in The Australian – July 1994
"The opportunities are there, but we have to move quickly" in The Australian – Oct 1994
Series of five columns for the Sun Herald on the 1998 Federal Election
"Top Ten Myths behind Fibre Policy (NBN)" – The Australian September 2010
Numerous articles for Crikey.com and Business Spectator on the Australian media industry
Media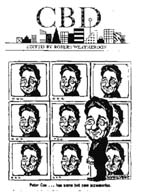 Peter has been featured in all the major Australian newspapers on many occasions including; AAP, The Australian Financial Review, The Australian, Sydney Morning Herald, The Age, Herald, B&T, Ad News, The Sun-Herald, Telegraph, Sunday Telegraph, Australian Business, BRW, Time, The Independent, The Bulletin and in the US Variety, the Hollywood Reporter, the Kagan reports and The Guardian in the UK.
Television interviews have included many appearances on all commercial and ABC news services, Today Tonight, A Current Affair, Business Sunday, Sunday, the Today Show, the Midday Show, TV AM, Good Morning Australia, The Drum, The Project, The 7.30 Report, The World Tonight, Four Corners, Lateline, SBS, Sky Business, Sunrise, TVNZ, BBC and Channel 4 in Britain. He has also been interviewed on hundreds of occasions all over Australia on commercial and ABC radio stations and the BBC. On Media Watch Peter was featured alongside Kim Williams the CEO of Foxtel, Mark Scott the MD of the ABC and Wayne Goss the former premier of Queensland and the Chairman of Free TV. The 7.30 Report examined the future of television and the Digital Revolution.
Peter has been an expert for 35 years on television, newspaper, magazines and radio metrics.