The Board of Fairfax Media has opposed the election of Peter Cox to the Board and recommended shareholders vote against his election.
The board claimed that Peter Cox's "experience and expertise was not considered to best fit  board  requirements…the board's process has resulted in seven Directors joining the Board over the last three years."  The performance of the company over this period in significantly reduced circulation, readership and advertising revenue and resulting share price falling 70% from $1.70 to 44c. With shareholder value having declined  by $3.5 billion one would have to question how well the selection process and best fit criteria has been working for the company.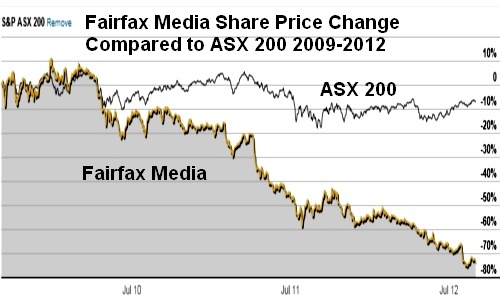 The incumbent board's opposition was not unexpected and is based on a number of claims that are inaccurate and misleading. These claims and our responses are as follows:
Cox vs Corbett Background
Peter Cox has been publicly supportive of Gina Rinehart's request for one or two seats on the board which has been strenuously denied by the Fairfax Chairman, Roger Corbett.
Peter Cox believes the board should, like other major boards, have responsibility for determining the nature of its newspapers, selection of target markets and the performance of those papers.
Peter Cox has been highly critical in television and media interviews of the performance of the Fairfax board, and the Chairman in particular.
The Board has appointed all directors including the four standing for re-election and would have to vote against their own selection to support Peter Cox.
The board acknowledges that Peter Cox offered his candidacy three years ago to Roger Corbett and in both cases Peter has offered his preparedness to work in harmony and add to the skill set of the board.
Instead the board made seven new appointments and in that period the market capitalisation of the company has fallen by $3.5 billion. Obviously great decisions.
The Chairman of Fairfax, Roger Corbett was also Chairman of the Nominations committee that has apparently twice rejected Peter Cox.
Roger Corbett has not ever spoken to or engaged in dialogue with Cox to consider his credentials.
"Little direct management experience" according to the board
Peter Cox has had direct media management experience after a management background in industry with CIG and merchant banking  with Bankers Trust as:

Peter was CEO and founding Managing Director who built and established 2DAY-FM, one of the most successful radio stations in Australia.
Peter was a board Director for nearly ten years of Associated Communication Enterprises which acquired Truth newspaper, a national tabloid from News Corporation and which expanded into magazines and radio stations.
Peter has worked closely for the last 10 years with the management team of the Premium Movie Partnership, which owns the Showtime Movie Channels, on strategic and competitive issues in the Australian subscription, free-to-air and media markets. PMP is jointly owned by four Hollywood studios – Twentieth Century Fox, Sony Pictures, Paramount Pictures, Universal Studios and Liberty Media.

Two of the appointed directors were executives of Fairfax at some stage

Gregory Hywood has a background in Fairfax newspapers for many years which have lost circulation, readership, and advertising threatening their very survival.
Michael Anderson was appointed in 2010 presumably to fix the Southern Cross Broadcasting's radio assets which Fairfax bought in 2007 for $480 million. Adam Schwab writing in Crikey calculated that on a Citibank valuation of $170 million Fairfax has lost "upwards of $250 million" on the radio stations. The board has been unable to sell the radio stations.

Five non-executive directors have never worked directly in media at all nor as far as we are aware have they been close advisors to any media companies.
The board claimed Cox had experience only in electronic media ( an old fashioned term in a digital age) yet appointed Jack Cowin only two months ago. His only  media experience is "electronic" as a director at  TEN which has crashed in ratings, revenue, profitability and share price. The Chairman stated that despite this "he had considerable value to add to the company" and that his appointment was not connected to the Hancock Prospecting. Illogical or disingenuous.
Business Manager for four years for Michael Willesee and the leading Australian television production company, Trans Media Productions, as it developed into one of the most successful television production companies in Australia. They were largely responsible for the Seven Network winning the ratings for the only three years in its history until recently.
"Little relevant digital business experience"
Peter has been involved in digital since the early 1990s when he brought General Instrument of the US, the world leader at that time in digital satellite transmission, to Australia and was responsible for having the technical specifications in the 1992 Broadcasting Services Act determine his clients proprietary system for the initial satellite digital compression for Pay TV. Peter consequently gained the satellite and MMDS digital set top business for General Instrument from Australis Media and the cable set top business from Optus Vision
Peter has been lecturing to companies and conferences since the 1990s on the potential threats and opportunities of The Information Superhighway and The Digital Revolution
These presentations had been given to media companies, advertising agencies, banks, Defence Force, the Government and attendees at many industry conferences in Australia, NZ and Asia
Unfortunately the board or management of Fairfax had not commissioned these presentations by Peter Cox for the company
Peter's submissions to the Government Digital Inquiry in 2004 on behalf of the Australian Association Of  National Advertisers together with submissions by Kerry Stokes were largely responsible for the introduction of digital FTA multichannelling in Australia to combat both digital PayTV and Online digital growth
Peter was invited to be Chairman of two National Sector Communication Officers' Conferences in Canberra in 2009 and 2010 on how the public service could utilise new media (Digital) for increased community and stakeholder engagement.
Again, unfortunately, the board of Fairfax were unable to grasp the digital lessons

developing their own free online competitive services undermining their own business model and
allowing new competitors to develop online businesses in real estate, employment and motor vehicles destroying the foundations of the Fairfax business and destroying shareholder wealth

Peter has had a web site for more than 7 years and has personally just built a new web site for Cox Media incorporating the latest social media functions including Facebook and Twitter.
"No public company board experience"
None of the following directors had direct media or digital experience or expertise when joining the board

Roger Corbett, Sandra McPhee, James Millar, Linda Nicholls, Peter Young.
When the Chairman was first appointed to the board in 2003 he in particular had no relevant media or digital experience.

All have heavy commitments on their time and energy spread across numerous directorships, committees and other corporate governance responsibilities
Peter Cox brings to the board 35 years of media and digital experience and credibility
He has no conflicts for time, energy or commitment and is able to give full attention to the needs of Fairfax.
The board in its selection criteria for Directors makes no mention of requiring direct management experience, digital business experience and public company board experience. All the directors appointed fail to satisfy all of those requirements to which they claim Peter Cox should be held.
The board also sought cultural fit and diversity but as there are no ethnic, religious, staff voted representatives or community directors one has to assume that the fit required is with the culture of the Chairman.
The Chairman has been a director for nearly 10 years during which many disastrous investment decisions have been made resulting in the share price falling 90% from a peak of $5 to less than 50 cents threatening the survival of the company. (see Top Ten Deadly Sins of Fairfax Media)
Surely it is time to elect a media expert in Peter Cox to the board to try and Save Fairfax.